Hope you all had a wonderful Valentine's Day!  I spent the day partying it up with my kids at their daycare.  I decided to make something that all the kids would want to keep.  So I made these adorable bags with their names on them.  I put a few Hershey Kisses in and some temporary tattoos.  These were so easy to make.  The hardest part was deciding what to put on them.  I was going to theme them with hearts and "love" sayings but then changed my mind so the kids could use them all the time.  The boys got dinosaurs, girls got hearts, and teachers got "thanks a bunch".
I used the muslin bags from Close to My Heart.  They come in packs of 3 for $3.95.  If you want to stamp something on them you need to use a pigment ink.  I used Sunset for the dinos and Hollyhock for the hearts.  The pigment ink dries very fast on the muslin bags.  I can not stress enough how wonderful the alphabet stamp set is… "a typeface".  If you ever want to personalize treat bags or anything small you MUST have this one… especially for only $6.95!
I also used the new stamp set "Oodles of Doodles" to make the labels and since it's cricut compatible with the Artiste cartridge it only took 2 minutes to cut all 22 labels.
Check them out: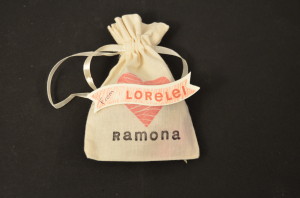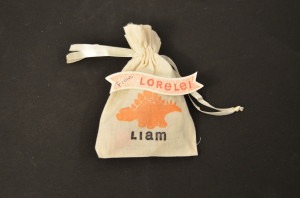 So head over to my website and get your supplies to make favors for a party or just a few thank gifts for a friend.
Here's the items I used:
Oodles of Doodles Stamp Set B1449 $9.95
Retired dinosaur stamp set
December 2012 stamp of the month
Adventure Exclusive Inks Mini Pigment Pads Set Z2501 $19.95
Basics Exclusive Inks Mini Pigment Pads Set Z2503 $19.95
Hollyhock Ink Pad Z2128 $5.25
Blush Ink Pad Z2106 $5.25
My Creations Muslin Drawstring Bags Z1822 $3.95
A Typeface Stamp Set A1117 $6.95