Today I wanted to share my follow-up to the zoo invite.  Here's our Zoo party thank you card.  We only had 6 families that came to my daughter's party.  I thought it would be great to give everyone a copy of all the pics we took during the party.  So using my cricut I made a really neat thank you card CD holder!  I love our cricut cartridges more and more every day 🙂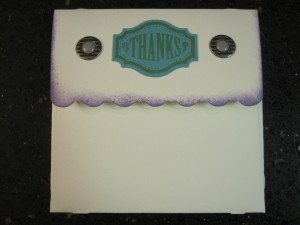 I used the cricut Artiste cartridge for the envelope and the thanks shape.  I also used the Artbooking cartridge to make the lion and giraffe shapes.  I sponged the flap with gypsy.  I also have to tell you that I love our special stamp this month.  That's where the sentiment came from.  Right now you can get this awesome stamp set for only $10 when you place a $50 order.
Here's a great way to get more bang for your buck… You can get 7 stamp sets and the new Artbooking Cricut cartridge for $114 (plus tax and shipping).  Just order the Artbooking cartridge and you can add the stamp of the month for $5 and also the trio set for $10.  That gives you 7 total stamp sets!
Here's everything I used to make this neat CD holding card:
CC1025 You Are My Happy Stamp Trio
For every $50 you spend you can get a trio set for $10.  What an excellent present for any stamper!  So head over to my site and get yours today.