This week is my 3rd attempt at the Color Dare Challenge.  The assigned colors were Sorbet, Canary, Crystal Blue, and White Daisy.
You can check out the Color My Heart Color Dare Challenge by clicking the inks!
This week I also decided to participate in another challenge as well which gave me the theme of scrabble!  We love scrabble and all sorts of board games in our family so I decided to mix both challenges and see what I could do.  You can check out the Scrabble Themed Challenge here.
We had perfect weekend of Fun in the Sun with friends and the little ones were so tired by the end of the day.  Shockingly they made it through a full day of water play and then we did some rides.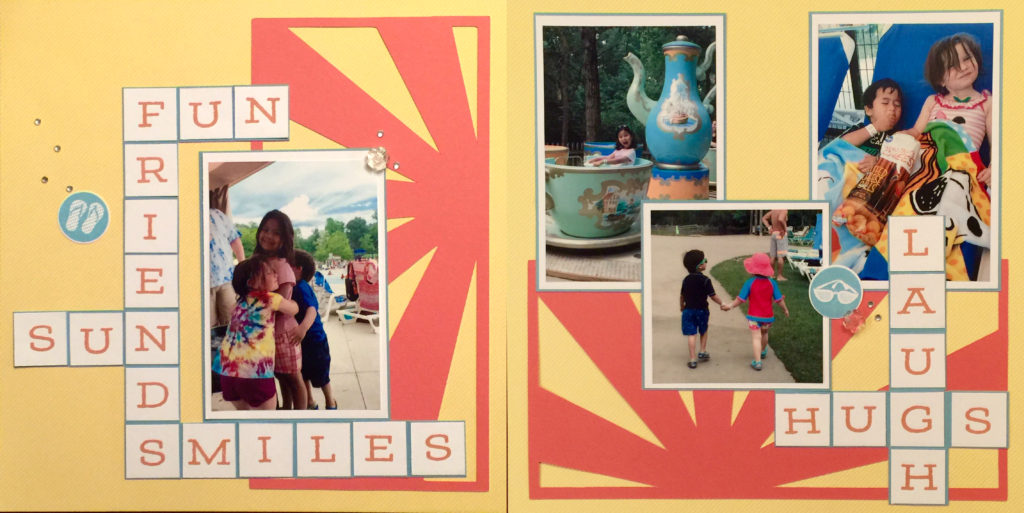 I felt that this theme captured our day perfectly!  I created the "tiles" with a tiny Crystal Blue frame so they would have some extra depth.  I wanted to the pics to really pop but also give you the feel of a Scrabble tile so I double framed them.  To help me I used my Cricut Artbooking Cartridge to create the sun bursts.  You can order your cartridge by clicking here.
Thank you so much for checking out my layout!  Please subscribe to my blog and follow me on my journey by clicking on the Bloglovin link.  You can also pin my layout and share it on Facebook.  See you all next week!