Now that Halloween is done and we're preparing for Thanksgiving I wanted to share my autumn layouts with you all.  Our Huntington paper is perfect for this time of year.  The pictures of my layouts don't do them justice.  The paper is beautiful.  Using the Huntington Workshop on the Go kit I put the first layout together with the included directions.  The instructions for the second layout can be found on the close to my heart website.  They are so easy to follow.  They even give you the instructions to cut the paper so that you conserve your paper!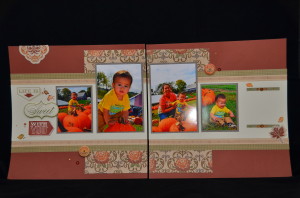 Once you get done you even have a bunch of paper and the embellishments leftover.  So click here to order your kit!
For $29.95 you get the following:
Huntington Paper Packet
My Acrylix® Huntington Workshop Stamp Set (D-size)
Cardstock Sheets (2 Colonial White, 2 Goldrush)
Huntington Assortment
Sparkles Brown & Tan Assortment
Instructional Guide
Keep stopping by because I'll be posting lots of holiday artwork and also some different projects that you will be able to purchase.